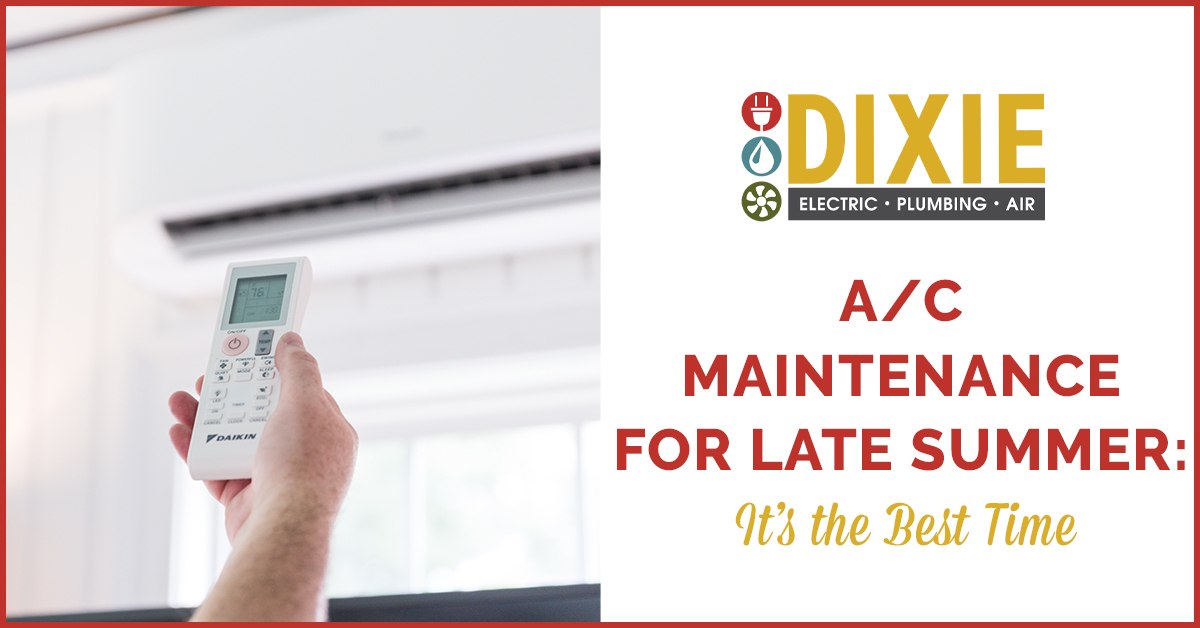 4 Things You Can't Ignore About Your AC This Summer
Summer is winding down, and no doubt your family is looking forward to cooler temperatures. They should be arriving any day now, right? 
You could be waiting a bit longer for fall temperatures to arrive in Auburn or Montgomery, where the yearly average for September is still nearly 90 degrees.  
Bottom line: You still need your air conditioner to be in tip-top shape. It needs to perform for at least a few more months before more comfortable weather arrives. A little preventative maintenance now will save you a big headache later. 
End-of-Summer Checklist for Your Air Conditioner
If you haven't already this season, take time to do a necessary inspection of your AC unit. Here are a few things you can do yourself to make sure your family remains comfortable, even in the dog days of summer. 
To-Do #1:
Clear Away Debris From Your Outdoor Unit 
Grass, weeds, and other outdoor debris can clutter or clog your outdoor unit and cause it to underperform. Strong summer storms can blow branches and other materials onto or into your unit, causing damage. 
Take time to clean any items off of or from around your AC. 
To-Do #2:
Go Ahead And Replace The Air Filters Again 
If you changed your air filters at the beginning of summer, it's already time to replace them once again. If you don't know the last time they were changed, you must change them now. 
A clean air filter contributes to a properly-functioning AC unit. It's an easy fix you can do yourself and relatively inexpensive. Set a reminder in your phone or calendar every three months, as filters need to be replaced seasonally. If you have allergy sufferers in your home or pets, you may want to change your filters more frequently. 
To-Do #3:
Don't Ignore Your Coils
Many homeowners choose to sweep or hose off their coils every so often, which is okay for you to do. But at least once per year, you should have them professionally cleaned and serviced. 
Typically this happens earlier in the year, but there is no time like the present to catch up on summer maintenance. 
A little clean-up now will save you a much bigger headache down the road. 
To-Do #4: Stop, Look, And Listen To Your Unit
Many homeowners forget that sometimes the most important thing you can do for your unit is to give it a visual inspection yourself or listen to your AC unit running. 
If you're outside on a summer day, pay attention to what your AC sounds like when it turns on. If it seems louder than usual, or if you hear noises that didn't use to occur, you might want to schedule an inspection.
Likewise, if you notice anything different about how your unit looks, make sure you get a second opinion in the form of a licensed professional. 
To-Do #5: Call Dixie For An End-of-summer Checkup
Calling our team is a wonderful solution to ensuring your air conditioner is ready to face the dog days of an Alabama summer heatwave. We offer air conditioning tune-up services that include: 
Checking electrical connections

Testing the thermostat

Cleaning the indoor unit

Cleaning the outdoor unit

Changing the air filter

Checking refrigerant levels

Verifying condensate drainage levels

Testing the system
Remember, if you don't feel comfortable working on your unit yourself, don't attempt a DIY repair. Stay safe, and keep your cool (literally!) by talking with one of our HVAC technicians. 
Call Dixie And It's Done!
At Dixie Electric, Plumbing & Air, your satisfaction is guaranteed. For plumbing, electrical, or heating and air services, our highly trained technicians will do it right the first time, on time, every time. For coupons and discounts on all the services Call Dixie has to offer, click here. To schedule a service with Call Dixie, call 334.328.3570 for Montgomery, or call 334.246.4914 for Auburn. You can also schedule an appointment online. 
For emergency service and immediate assistance, please call our 24/7 service line at 334.328.3570.