Practice Preventive Maintenance
There are no guarantees in life, but the best way to prevent damaging plumbing breakdowns is with regular maintenance by Dixie Electric, Plumbing & Air. Having one of our licensed plumbers come out on a regular basis to do a plumbing inspection that can prevent disasters like the ones we just mentioned.
Plumbers are trained to identify troublesome water heater issues. It could be signs of corrosion, a very small leak, or maybe a bulging tank indicating a pressure buildup inside.
Every plumbing inspection includes checking washing machine hoses. Experience makes it possible to spot a weak or soft spot in a hose long before it bursts.
The Dixie Plumber will look at every valve in kitchens and bathrooms. If any warning signs, leaks or corrosion are spotted, it's a very small price to replace these valves as part of preventive plumbing maintenance.
Symptoms of partially clogged drains and sewer pipes can often be spotted before disaster strikes. If it's determined there is a blockage, Dixie can use a hydro-jetter to blast it away without having to dig up your yard and landscaping.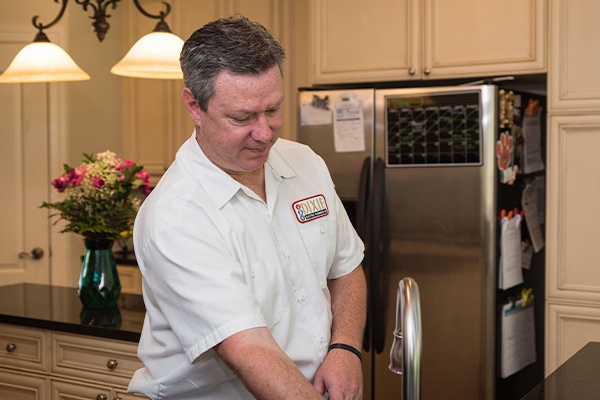 Nothing can turn a good day into a bad day faster than a destructive plumbing breakdown. The threat can come from several different scenarios:
Washing machine hoses burst
Tree roots or other blockages in your sewer pipe
Plumbing Products & Services
Whenever you need plumbing help, depend on Dixie Electric, Plumbing & Air for a comprehensive list of repair, maintenance, and replacement services:
Call Dixie for Plumbing Maintenance in Central Alabama
Frozen pipe repair & thawing
Despite your best efforts, plumbing breakdowns can and do happen. We will dispatch help as quickly as possible and our plumbers will arrive in a fully stocked truck so repairs can be made to protect your home from further damage.
Book your next appointment, or call for 24/7 emergency assistance.