EPM
Electrical preventative maintenance (EPM) is one of the most important things Dixie can do for a commercial client. It's also absolutely vital for industrial facilities. When a problem shuts down a manufacturing facility, warehouse operation or call center, the lost dollars add up minute-by-minute. It is not the time to wonder if improper or lack of maintenance is the reason for the shutdown. Think of the value to you and your business if our maintenance program prevents just one major electrical breakdown.
You can depend on Dixie to find problems before they happen. One example is using the very latest thermal imaging tools to locate any hot spots. It might be a single breaker in a service panel. When located early, it's an easy fix without disrupting production.
But, without thorough preventative maintenance, the single breaker can continue to overheat and damage or destroy the entire electrical panel. Now the plant is shut down for hours, and the losses can quickly mount into hundreds of thousands of dollars—or even more.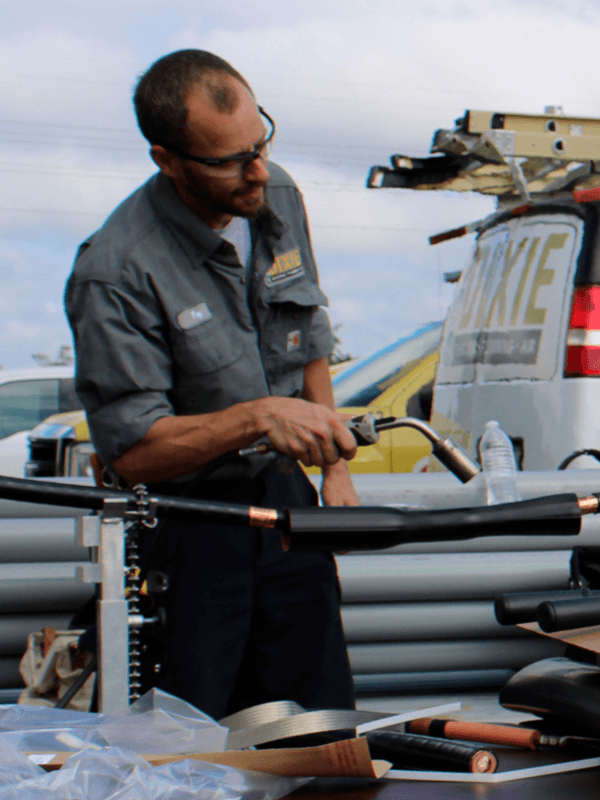 Take a moment to let some of these numbers compiled by Hartford sink in:
3 times greater: The failure rate on components NOT part of a preventive program
⅔ of electrical failures: That's how many can be prevented by routine preventive maintenance
Millions of dollars: Estimated costs each year from damage and lost business caused by electrical failures
Most think they can pick up the phone and call any random electrician to get professional electrical preventive maintenance. Unfortunately, it's not something every electrician can do. electrical preventive maintenance is a specialty. Our Dixie electricians have a thorough understanding of electrical safety and procedures and are trained to prevent costly breakdowns.
A Quality Preventative Inspection Should Include:
Thermal Imaging
Dixie has the most up-to-date devices to locate heat sources and hot spots in walls and ceilings.
Cleaning
This step is easy to ignore but is critical. Dust and dirt is removed from circuit breakers, vents, and switches.
Visual Inspection
Dixie's experienced electricians are trained to spot the anything that looks incorrect and could lead to a future problem.
Nuts & Bolts
Weak and loose connections cause overheating and can damage your valuable equipment. Dixie's team will make sure each bolted connection meets code standards.
When you call Dixie, we can schedule your electrical preventive maintenance and you can plan for it. You can prepare for any downtime in advance. Compare that to a major electrical breakdown. Now, you're waiting for emergency service and your business is turned upside down. Don't take that chance.
Electrical preventive maintenance requires special training. Count on Dixie's electricians to have a thorough understanding of electrical safety and procedures with the training behind it to prevent costly breakdowns.
Infrared Thermography Level II
Visual & Mechanical Inspection
Voltage & Current Diagnostics
System Grounding Analysis
Emergency Lighting & Exit Signage
Insulating Fluids Analysis
Relay & Circuit Breaker Coordination
Provide Equipment Specific Labels
Site Surveys To Provide As-Built Drawings
Site Survey & Single Line Diagram Generation
One Year Warranty On All Repairs
Electrical preventive maintenance is
cost effective.
It always costs less to make repairs to equipment before failures or malfunctions occur. A planned shutdown is cheap compared to an emergency shutdown caused by a system breakdown.
With so much at stake don't take that chance. Call Dixie now to set up electrical preventative maintenance in your facility.
In the rare instance there's a service we can't provide, depend on Dixie to find a company who can. We want to make sure you get what you need. Our goal is to make you happy so you will call us next time.
More important than the list of services, are the the people who deliver the services. Dixie's Electricians are all certified, licensed and undergo continual training. For your security they are all drug-tested and background checked.
As a business owner or manager you can't afford to accept anything less. Running the risk of some other company doing substandard work on your commercial facility is never recommended. Call Dixie Electric, Plumbing & Air to get the job done right the first time.
No one beats our satisfaction guarantee. If you are not 100% satisfied with the electrical service we provide to you, we will refund your money. Our guarantee is why we have the motto, "Call Dixie and it's done."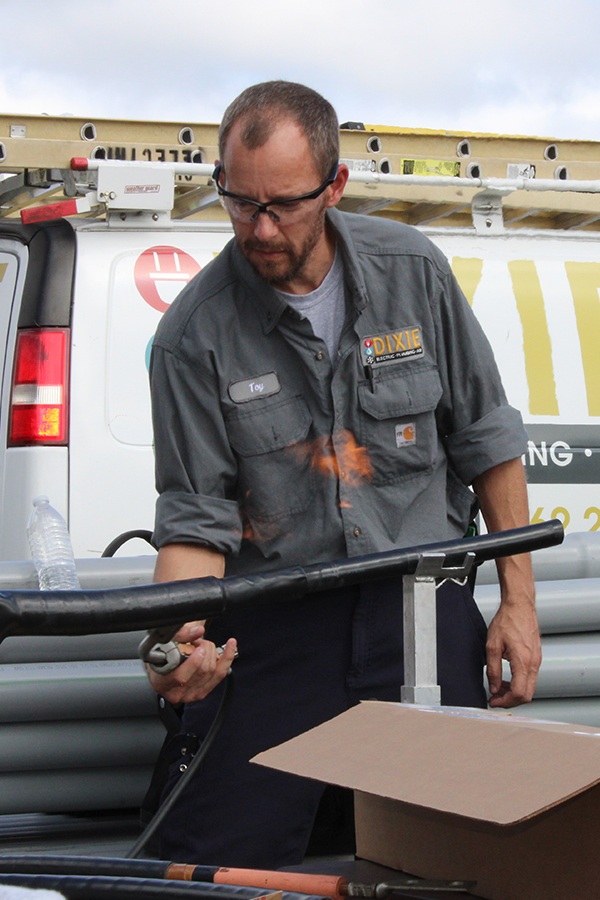 Book your next appointment, or call for 24/7 emergency assistance.