Panel Service in Montgomery & Auburn, AL & Columbus, GA
They can go by many names like breaker panel, electrical panel, load center, service panel or breaker box. For our purposes Dixie Electric, Plumbing & Air is referring to the type seen in virtually all Montgomery and Auburn, AL and Columbus, GA homes. It is a steel box that holds multiple circuit breakers connected to circuits that supply power throughout the house. Let's make sure we're all on the same page regarding how the system works.
Whatever the Project
No job is too big or too small for the licensed electricians at Dixie Electric, Plumbing & Air. They will arrive on time, with a fully stocked truck ready to complete your electrical repair, service, or installation. You will receive upfront pricing so there will be no surprises when the job is done.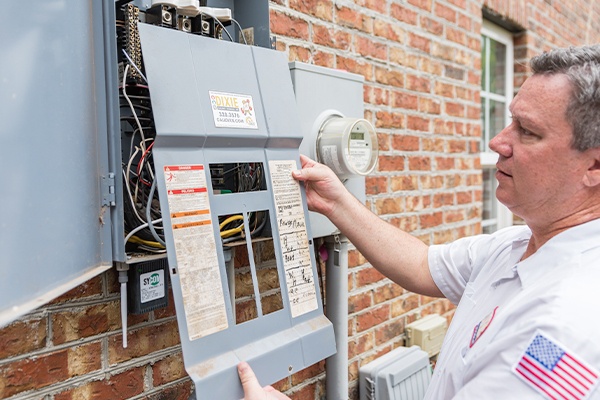 What Are Circuit Breakers?
Breakers come in various amperage ratings since it takes many more amps to heat an oven compared to a television. They turn the power off by "tripping" to protect wiring from damage when there's a short circuit or too much electricity flowing through the wiring. This can occur randomly and when you reset the breaker the problem doesn't happen again. More often the breaker trips repeatedly indicating the circuit is overloaded. Often this can happen for a very specific reason. If you put up your Christmas lights and suddenly the breaker is tripping, chances are you need to unplug some lights or find a way to move some of them to an outlet controlled by a different circuit breaker. If a circuit breaker keeps tripping for no apparent reason you should leave the circuit turned off and call Dixie for expert help.
Your utility company supplies electricity to your electrical meter. From there it goes to your main breaker located very close to the meter. It has a large double pole circuit breaker. Most homeowners will likely never touch it. It's there to shut off electricity to the entire house for service purposes or in case of emergency. From the main breaker, the current goes to the electrical panel with multiple circuit breakers.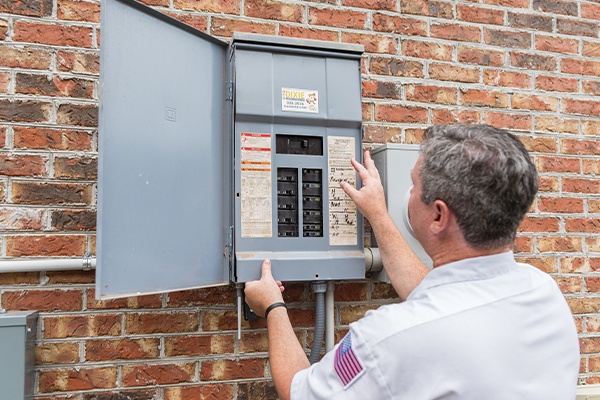 It's important to understand adding a larger electrical panel with more circuit breakers does not add electrical capacity. It's determined by the service coming into your home from the utility company. Most modern homes have 200 amp service, although some homes may be significantly less. If you need more power to the home, it will include working with the utility company to have a new meter and main breaker installed.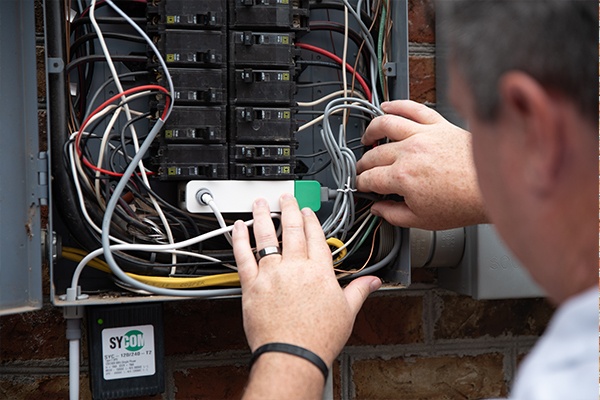 There are two main reasons why you may want to install a new electrical panel or sub-panel.
In either case Dixie has the licensed electricians who can do the job quickly and efficiently.
Book your next appointment or call us for emergency assistance.