Professional Electrical Repairs in Alabama
There's no electrical repair job too big or too small for Dixie Electric, Plumbing & Air. It could be as simple as installing a light fixture or ceiling fan, or as complicated as installing a new electrical service panel. You can trust the people who've been doing electrical work in Auburn and Montgomery, AL for more than a century. Our Dixie electricians will complete the job on time and for the quoted price we give you upfront.
Make Smart Electrical Decisions
Some do-it-yourselfers tackle electrical and appliance repairs. Dixie can't stop you from making those decisions, we just want to be sure you think about the consequences. Electrical wiring isn't like hanging sheetrock or repainting the living room. Done wrong, electrical work can kill you and the people you love. The experts at Dixie Electric, Plumbing & Air are always here to make sure the job is done right.
This is the thing about electrical problems in the home: Some can cause a simple inconvenience while some can pose a real danger to you and your family. In all cases, Dixie works hard to solve your problems and offer the peace of mind that comes with safety. Every electrician we employ is fully licensed, background checked, and drug tested.
Many people want to know when it's time to call in professional help. Because electricity can be dangerous, we urge you to always err on the side of caution. Here are some situations that often require the skills of an electrician:
Outlets or circuits dead for no apparent reason
Circuit breaker trips repeatedly
Electrical shocks from a switch or outlet or when using an appliance
Outlet or switch gets unusually hot
Signs of arcing anywhere in the electrical system
If you suspect an electrical issue in your home, don't hesitate to call Dixie today.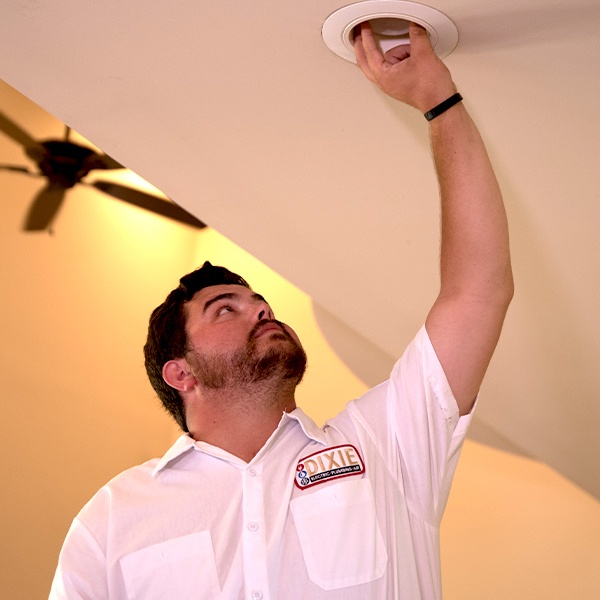 Power Surges
We're going to treat these separately because surges can be extremely damaging to a home's electrical system and/or appliances, especially sensitive electronic devices. Lightning is usually considered the most common cause, but they can also occur because of problems in the electrical grid delivering power to your home and problems in your home's wiring. Here are some signs you may be having power surges:
Devices lose power or suddenly reset themselves (clocks start blinking)
Tripped circuit breakers or safety switches
Electrical devices fail for no apparent reason
Lights suddenly get bright
It you believe you've had or are having surges; we urge you to call in an electrician to inspect your system. Dixie can also install whole-house surge protection. Think of surge protection the way you would insurance. You spend some money upfront to protect appliances and electrical devices worth thousands of dollars.
Book your next appointment, or call for 24/7 emergency assistance.