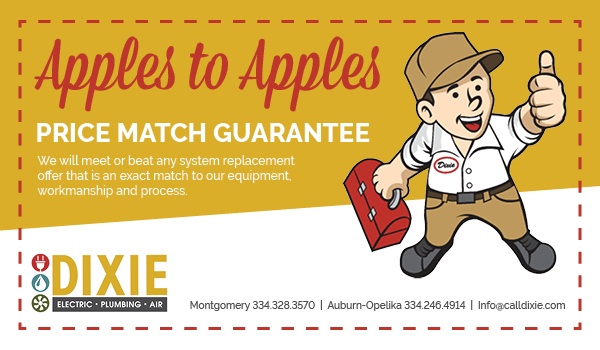 Choose Montgomery & Auburn, AL & Columbus, GA's Trusted Plumbing Fixture Repair and Installation Company
Looking for a quick and easy way to spruce up your Auburn or Montgomery, AL or Columbus, GA home? Have you considered new plumbing fixtures in your kitchen and bathrooms? Dixie Electric, Plumbing & Air can handle any replacement job for you.
Our professional plumbers at Dixie Electric, Plumbing & Air provide plumbing fixture installation services to ensure that everything is properly installed. While fixture installation may seem like a simple DIY project, our technicians ensure that there aren't loose screws or bolts to prevent any future leaks, which can cause catastrophic damage and costly repairs. When you're ready to update your home's plumbing fixtures, call our highly-trained and certified plumbers
Installing & Repairing Major Plumbing Fixtures
Toilets and garbage disposals can last a lifetime, but sometimes issues arise, such as cosmetic or economic issues like updating your fixtures to match the aesthetic of your home or saving on water usage. Our team can provide insights into the best low-flow toilets and aesthetic options to ensure that your plumbing fixtures are not only eco-friendly and cost-effective, but also match your home's decor.
At Dixie Electric, Plumbing & Air, we understand the importance of properly functioning plumbing fixtures, so if you notice that your toilets aren't filling or your garbage disposal is making strange noises, it may be time to update and replace those fixtures. While we typically recommend the industry-leading Badger Insinkerator or the GrandSmart disposal, we work closely with our clients to ensure the best option is selected for their home. Let our team help you troubleshoot any issues with your plumbing fixtures, and install your replacement if required.
Call Dixie Electric, Plumbing & Air To Update Your Home Fixtures Today
Our team at Dixie Electric, Plumbing & Air provides professional plumbing fixture installation and replacements throughout all of Central Alabama, include these areas:
When you choose Dixie Electric, Plumbing & Air, you can rest assured that the job will be done the right way, on time, every time. If for any reason we are not able to complete the job during the initial appointment, we will schedule a time to return that works for your schedule.
Call 334-246-4914 or contact us online to schedule your appointment with one of our certified plumbers today. After working with Dixie, you'll know why our motto is: Call Dixie, and it's done!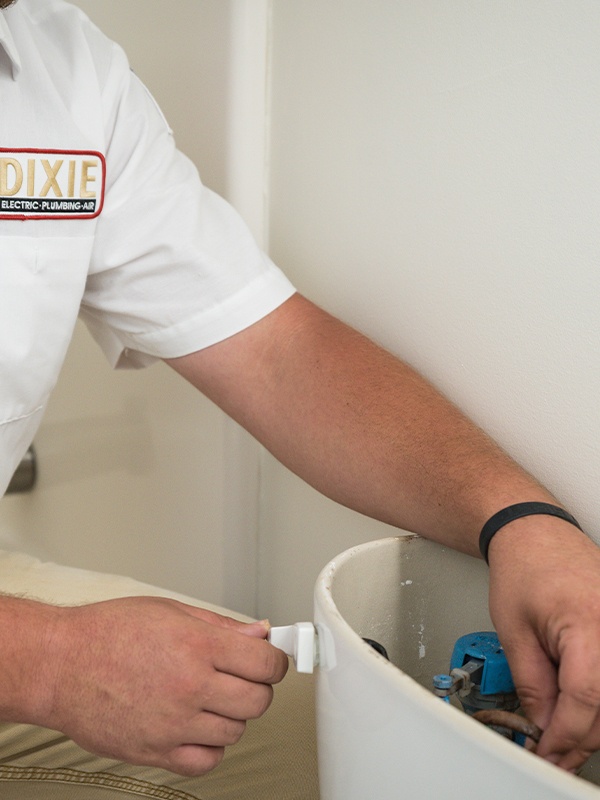 Yes, these tend to last for years, but there are some good reasons to replace your commode. It could be style—and there are many new styles and designs today than ever before. Maybe your house is old enough to have a dated color scheme like an avocado green toilet. Another good reason to replace is to save water. Dixie can install a modern low-flow toilet that can save thousands of gallons of water every year. There are even comfort height toilets, bidets, and self-cleaning toilets to meet your needs. And, if your current toilet needs some parts replaced, it's no problem for our experienced plumbers.
Is your disposal making strange noises? Don't have one and want to add one to your kitchen? Disposals typically last about 10 to 12 years. If yours needs repair. Dixie can handle it. If it's time to add one to your kitchen or replace the one that's there, our recommendation is the Badger Insinkerator or GrindSmart, both industry leaders.
Book your next appointment or call us for emergency assistance.