Fixtures Done Right
Looking for a quick and easy way to spruce up your Auburn or Montgomery, AL home? Have you considered new plumbing fixtures in your kitchen and bathrooms? Dixie Electric, Plumbing & Air can handle any replacement job for you.
Let's talk faucets first. A new faucet can change the entire look and feel of a bathroom or kitchen. An old faucet gets used usually multiple times a day. With corrosion, hard water, and dirt and grime buildup, there's not much to be desired without proper maintenance over time. Dixie can help install these faucets in your home:
Laundry or utility sink faucets
When people use the term plumbing fixtures, it's natural to think first about bathroom and kitchen faucets, but it's really a broad term and covers sinks, outdoor spigots, garbage disposals, showers, bathtubs, toilets and more. It doesn't matter if you are replacing just one or a couple of fixtures, Dixie is well equipped to do the job.
Done Right the First Time, Every Time
When you call on Dixie Electric, Plumbing & Air to replace or repair your plumbing fixtures, you have our pledge the work will be done right the first time, every time. All plumbing work in your home is backed by our service & repair money back guarantee.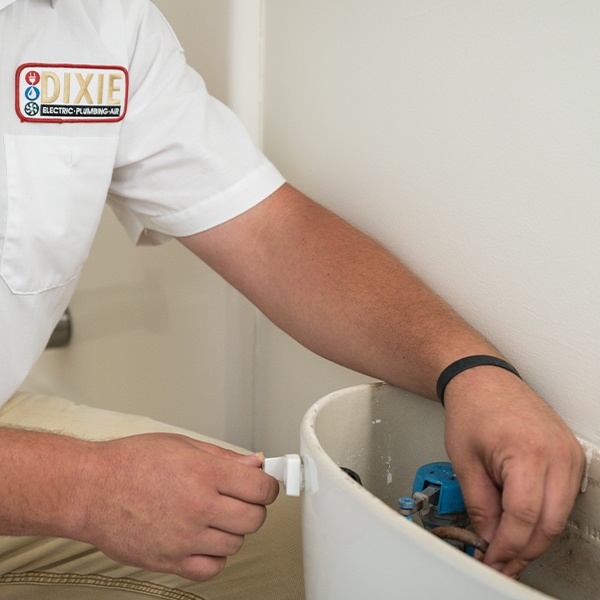 Yes, these tend to last for years, but there are some good reasons to replace your commode. It could be style—and there are many new styles and designs today than ever before. Maybe your house is old enough to have a dated color scheme like an avocado green toilet. Another good reason to replace is to save water. Dixie can install a modern low-flow toilet that can save thousands of gallons of water every year. There are even comfort height toilets, bidets, and self-cleaning toilets to meet your needs. And, if your current toilet needs some parts replaced, it's no problem for our experienced plumbers.
Is your disposal making strange noises? Don't have one and want to add one to your kitchen? Disposals typically last about 10 to 12 years. If yours needs repair. Dixie can handle it. If it's time to add one to your kitchen or replace the one that's there, our recommendation is the Badger Insinkerator or GrindSmart, both industry leaders.
Book your next appointment, or call for 24/7 emergency assistance.