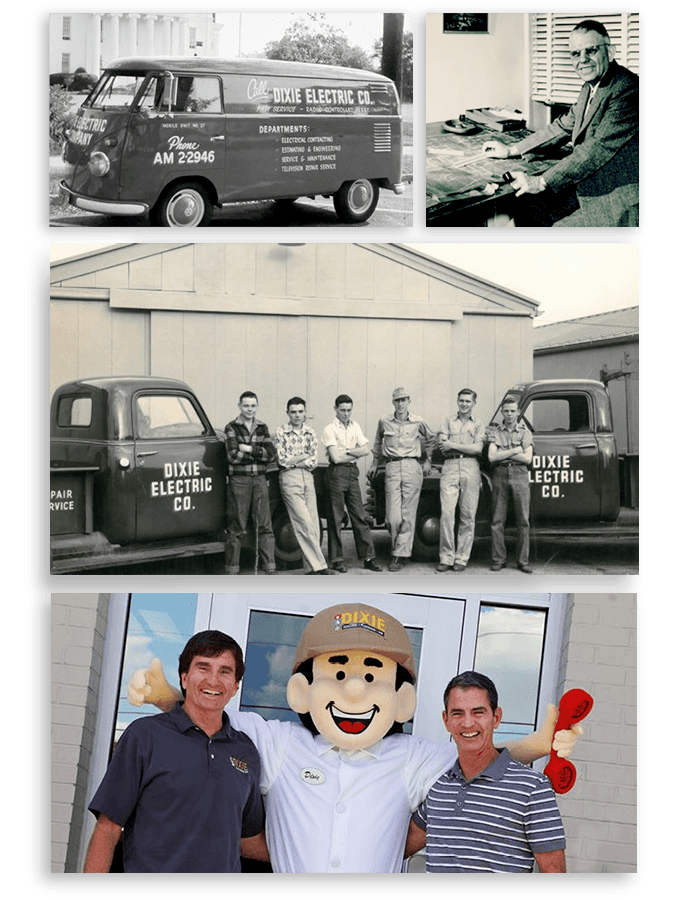 From the start, Dixie played an important role in the city. 
Teddy Roosevelt was president and for the first time, a ball was dropped in Times Square to celebrate New Year's. The year was 1908 when Dixie opened its doors in Montgomery and began its long history in the community. It was a mere 20 years after a new kind of power began lighting up the city. A young man named Peter W. Crump saw electricity's exciting potential and proceeded to form Montgomery's first electrical contracting company.
Dixie maintained Montgomery's trolley system, the first electricity-powered streetcar system in the U.S. It installed wiring and performed electrical maintenance and repairs in homes and businesses around town. As the town grew and prospered over the next 10 decades, so did Crump's company.
Current presidents John & Noble Yelverton are proud of the history Dixie represents, and they conduct business with the same pride and tradition of service that their grandfather, J. Noble Crump adhered to for six decades. Serving as Vice Presidents are Jimmy Jehle and Rodney King. As Dixie's skilled electricians did their work in Central Alabama, we were often asked who we would recommend for plumbing, air conditioning, and heating services. It became clear to us there was a need for a high-quality, reliable, and fair-minded company to fill the demand. As a result, Dixie Electric & Plumbing was born in 2012, followed by Dixie Electric, Plumbing & Air in 2014.
We're more than electricians who became plumbers & HVAC technicians
Each expertise is a separate skill and we hired experienced plumbers and technicians, and then trained them on the "Dixie Difference" you've come to expect from our electricians. Dixie Electric, Plumbing & Air is proud of the fact that 75 to 80 percent of its service calls come from existing customers or people referred by customers.
The Future of Dixie in Central Alabama
Noble and John Yelverton hope to continue the company's pattern of steady and sustainable growth, and believe the way to do that has not changed since 1908: take good care of Dixie's employees and they will take good care of our clients.
Book your next appointment or call us for emergency assistance.