AC Repair Services Near You 24/7
Summers in Alabama and Georgia can be brutal, especially when the house is filled with humidity that doesn't stop! That's why it's really important to have an air conditioning system that can keep you cool right when you need it to. And when you have a friend in the business like the experts at Dixie Electric, Plumbing & Air, who have offices located in Montgomery, Auburn and now Columbus, GA, there is always an AC repair technician  near you. Above all, living in a "hot house" is never pleasant, which is why we offer 24/7, same-day emergency service for our front-of-the-line Dixie Cares Plan customers. So when you have that unexpected breakdown and need an air conditioning repair service right away, we've got you covered.
Typical Air Conditioning Repair Issues
If your AC unit is just not working right, for example it might be blowing hot air, or is making some really loud noises that keep you up at night, the AC repair services provided by the experts at Dixie Electric, Plumbing & Air will ensure sure your broken or damaged AC unit is fixed right the first time, and the experience is as positive as possible. In fact, we guarantee it!

No matter if it is minor air conditioning repair or subsequently requires a complete replacement, the licensed and certified team is here to make sure you make the right decision for your situation providing a personalized experience, because no house or situation is the same. While we have seen a lot of scenarios in the past, most air conditioning repair services in the Montgomery or Auburn areas typically have one of the following issues: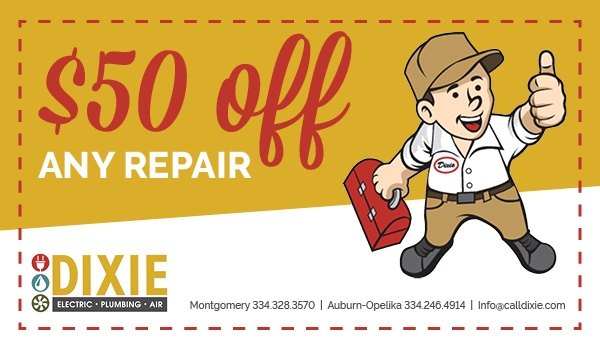 Troubleshooting your AC Repair?
Troubleshooting is the "detective work" involved in any AC repair. We need every clue we can get to troubleshoot quickly and accurately. You can help us out tremendously by giving us an accurate description of the problem and how and when the problem occurred. Of course, we test and examine AC unit, but first we listen closely to you to find out exactly what you've experienced and why you've called us. When our technicians arrive, let them know about any sounds, leaks, discoloration, or any other signs of AC trouble you've encountered.
With a trained professional from Dixie on the job, troubleshooting an HVAC problem usually doesn't take very long. However, every issue is unique, so there's no exact amount of time we can guarantee. It varies depending on the situation, but we always provide an upfront price for our troubleshooting so our customers will not have any surprises. In many cases, the solution to the problem turns out to be easier than finding the problem!
We aim to offer a same-day resolution, and with our 24/7 emergency response team, Dixie Electric, Plumbing & Air is always available to help you solve a problem in a flash. From a clogged drain to a broken air conditioner, we'll get to the bottom of it.
Still looking for more troubleshooting tips? Click here to read more. And check out this helpful video for more information on how to troubleshoot an AC.
Dixie Electric, Plumbing & Air, has provided affordable electric, HVAC, and plumbing services in Montgomery, Alabama for over a century. Read some of our reviews to hear from thousands of happy customers near you.
Sometimes the situation requires a more in depth resolve, so we offer these additional air conditioning services:
Whether you're thinking about how you haven't had your unit replaced for a while or you're left with no air conditioning, give us a call, and we're here to help you today.