Residential Electricians in Auburn, Alabama
Residential electrical issues can be anxiety-producing. Fixing electrical issues is typically not a "do it yourself" type of project, causing many homeowners to feel helpless and stressed when experiencing a problem with their home's electrical system. Dixie Electric, Plumbing & Air is here in Auburn, Alabama to calm your fears and fix your electrical problems – and we've been doing so for over 100 years.
As a homeowner in Central Alabama, you obviously want your electrical issues to be resolved the right way and stay resolved long after the electrician leaves your home. Our electricians at Dixie Electric, Plumbing & Air are tenured experts at what they do, and they're prepared to come in and tackle your problem by tapping into their years of experience resolving electrical issues.
Common Questions for our Dixie Electricians
TRYING TO DECIDE IF YOU NEED TO CALL A LOCAL ELECTRICIAN?
If the answer happens to be "yes" to any of the questions below, then you need to give us a call as soon as possible:
If any of the above scenarios apply to you, then call Dixie Electric, Plumbing & Air here in Auburn. You'll want to have a certified professional electrician look at your issues, make suggestions for remediation, and resolve your issues OR give you ideas for remodeling or landscaping projects.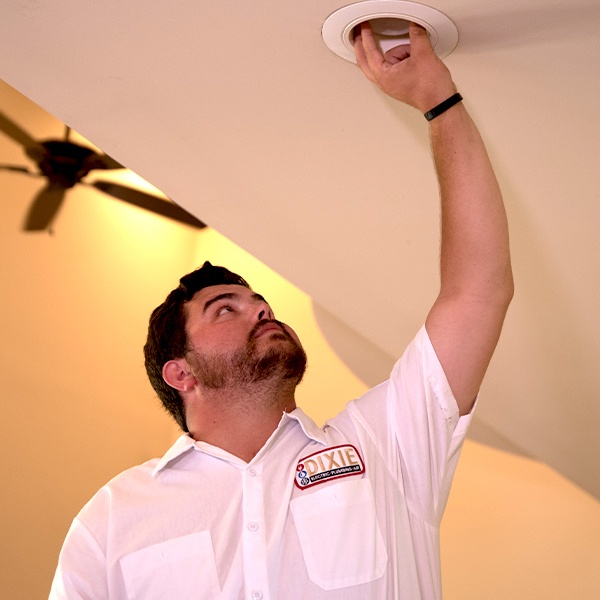 Experiencing Electrical Issues in Auburn, Alabama? Call Dixie!
Whether you're planning to rewire a new room, install a modern chandelier, or you just have a breaker that continuously trips and you're not sure why, our certified electricians know exactly what to do within your budget and within your city codes.
Scheduling an appointment with Dixie Electric, Plumbing & Air means you can look forward to receiving the highest quality of service from a licensed electrician who really knows what he or she is doing. Our electricians respect your time, clean up after themselves, and quote you a fair price before any work is ever done.
When it comes to anxiety-free electrical services and repair, you'll find it with the skilled electricians at Dixie Electric, Plumbing & Air.
YOUR SATISFACTION IS 100% GUARANTEED!
Book your next appointment or call us for emergency assistance.