Residential Plumbers in Auburn, Alabama
Plumbing emergencies are the WORST, and they seem to happen at the worst possible times. When you have company coming over. On a holiday. There's really no good time to have a plumbing emergency!
We understand the panic of an overflowing toilet or garbage disposal that gets backed up. When these plumbing issues happen, you need a fix right away and one done right. At Dixie Electric, Plumbing & Air, we value our reputation as being a vendor who doesn't allow our technicians to make a mess in your home, and we make it a priority to always provide you with pricing upfront before ever making a single repair.
Common home plumbing problems: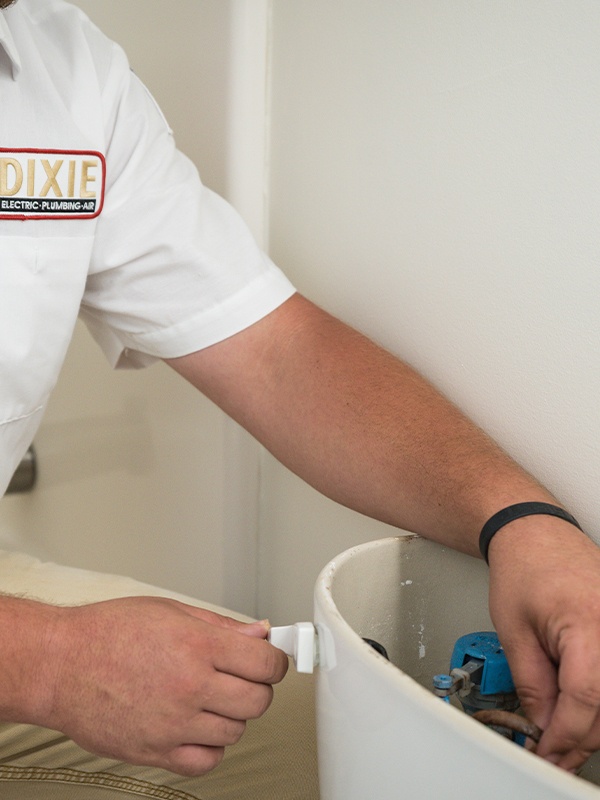 Experiencing Plumbing Issues in Auburn, Alabama? Call Dixie!
Plumbing problems are inconvenient. Luckily, we have our technicians available 24 hours a day, seven days a week, to make sure we get your plumbing emergency taken care of. Our certified plumbers are skilled in real-time video inspection technology, which helps us quickly and accurately diagnose your plumbing issues. Our technicians routinely go through training so that they are up to speed on the latest technologies.
When our professional plumber gets to the house, he's got a truck full of equipment to get the job done – no stopping midway through to head to the warehouse to pick up a part. Our goal is to show up at the right time and fix the right problem the right way – every time.
IF YOU ARE SEEKING A MONEY-BACK GUARANTEED SATISFACTION EXPERIENCE, GIVE DIXIE ELECTRIC, PLUMBING & AIR A CALL TODAY!
Book your next appointment or call us for emergency assistance.