Residential Plumbers for Lake Martin, AL Homes
A plumbing emergency is cause for alarm in any home and should be resolved as quickly as possible to reduce the amount of damage caused to your home. Our professional plumbers at Dixie Electric, Plumbing & Air provide emergency and regular plumbing services to ensure our customers and their homes are always taken care of.
As a homeowner in the Lake Martin area, we understand that you may or may not be a full-time resident. Residential plumbing systems experience problems or require upgrades even with regular use. As Central Alabama's leading residential home service provider, our licensed plumbers at Dixie Electric, Plumbing & Air provide the highest quality plumbing services to residents, whether part-time or full-time, in the Lake Martin area.
Common Plumbing Problems for Lake Martin Residents: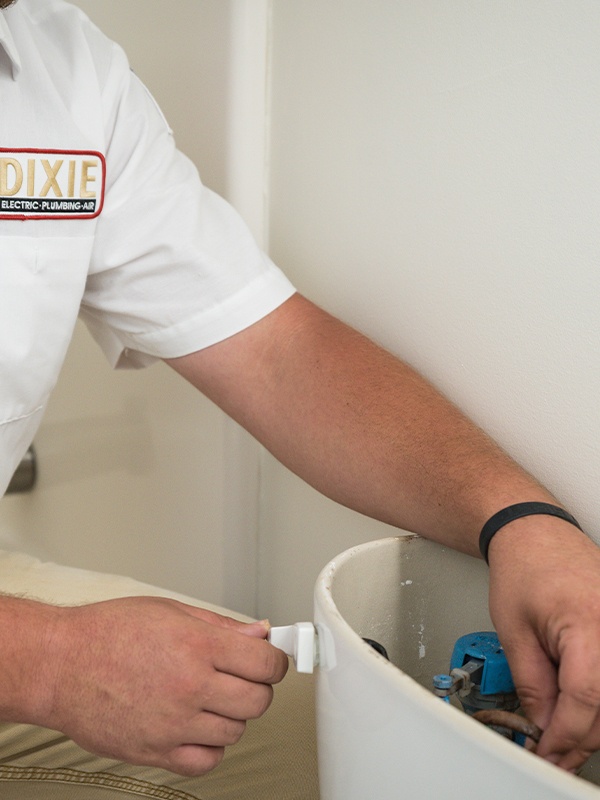 Does Your Lake Martin Home Have Plumbing Issues? Call Dixie, and it's Done!
Plumbing issues can be more than just an inconvenience; they can cause a lot of damage throughout your home, especially when not addressed immediately. Our team of licensed plumbing professionals is available to provide same-day service for any plumbing emergencies to ensure the safety of your home and your family.
At Dixie Electric, Plumbing & Air, we understand the importance of your home's plumbing system, which is why we offer regular maintenance and our Dixie Cares Maintenance Plan to ensure your system stays in top working condition. We use the latest technology to perform our routine maintenance, ensuring that we can identify any potential issues before they arise, saving you money and frustration.
During our visit, you can rest assured that when you Call Dixie, you're in the best hands. Our plumbing professionals are all thoroughly background checked, licensed, and arrive wearing a branded uniform and in one of our Dixie branded vehicles, which we affectionately call our "mobile warehouses." In most cases, we are able to resolve the plumbing issues during the same visit, but if for any reason our technicians are not, we will schedule a follow-up visit that works around your schedule.
CALL OUR EXPERT PLUMBERS FOR RESIDENTIAL SERVICES IN THE LAKE MARTIN AREA TODAY!
Book your next appointment or call us for emergency assistance.