Residential Electricians in Lee County, AL
Looking for an affordable, trusted electrician in Lee County? Look no further! Dixie Electric, Plumbing & Air has been handling the electrical needs of Lee County citizens for over a century.
As a resident of central Alabama, it's critical to ensure your electrical system is operating at its optimal level. Our electricians are ready to help with any electrical repairs or services that your home may need.
Common Questions for our Lee County Electricians
NOT SURE IF YOU NEED ELECTRICAL SERVICE?
If you answer "yes" to any of the questions below, we recommend addressing your issue(s) promptly so that your home's electrical system doesn't incur any further damages:
If you've marked "yes" to any of these questions, you'll need a Dixie electrician soon. You should hire a certified electrician to troubleshoot your problem. If you suspect the slightest issue with your electrical system, the Dixie Electric, Plumbing & Air team is equipped with the tools and expertise to resolve your problem quickly.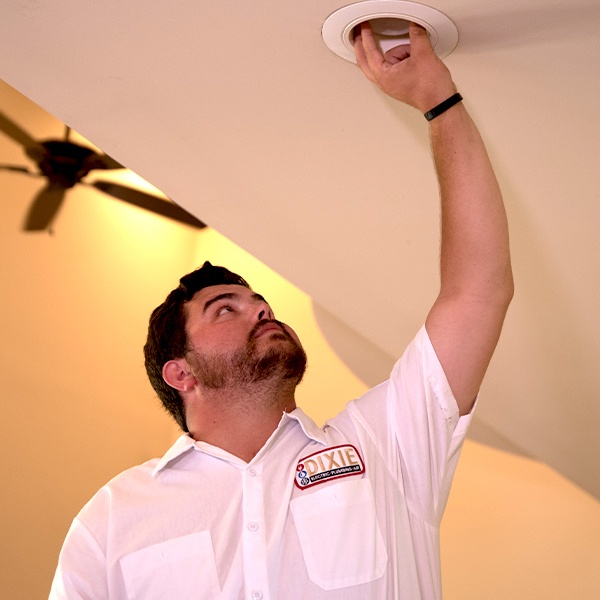 Experiencing Electrical Problems in Lee County? Call Dixie & It's Done!
Whether you're looking to install a new light fixture, finish off a kitchen remodel, or plan on constructing a new building, our expert electricians are here to ensure your project is completed on time, within budget, and up to code.
Schedule an appointment with Dixie Electric, Plumbing & Air to ensure quality service from a local, licensed electrician based in Lee County. Our expert electricians are committed to resolving all of your electrical at a reasonable price.
Ensure reliable electrical service and repair with our team at Dixie Electric, Plumbing & Air.
SATISFACTION GUARANTEED!
Book your next appointment or call us for emergency assistance.