Residential Electricians in Montgomery, Alabama
Dixie Electric, Plumbing & Air provides top-quality electrician service at an affordable price and has been doing so for over 100 years! The electricians at Dixie are here to help if your breaker keeps tripping or if you are planning a big remodel to your home. For any electrical issue, big or small, we have the experience you need to get the job done safely.
If you own a home, it is critical for your electrical systems to be working efficiently and safely. Not only do properly maintained electrical systems help keep your power bill down, but they also ensure the safety of the people who use them. Our electricians at Dixie Electric, Plumbing & Air are certified to help with any electrical repairs or services you may need.
Common Questions for Dixie Electricians
IF YOU'RE LIKE MANY PEOPLE, YOU MAY NOT BE AWATE THAT YOU NEED ELECTRICIAN SERVICES IN YOUR HOME.
If you answer "yes" to any of the following questions, then you need to contact one of our experts today before someone gets hurt or more damage is done to your home:
Does your breaker trip often?
Has it been over a year since the last electrical safety inspection for your home?
Is an electrical outlet in your home damaged?
Do you have frayed cords or damaged breakers?
Are you in need of security lighting to illuminate the dark spaces around your home?
Are you planning a project to remodel your home?
Do you smell something strange near your outlets? Like fish or urine?
Are you unsure if your home is equipped with whole-home surge protection?
Do you have damaged smoke/carbon monoxide alarms?
If you live in Montgomery, Alabama and are experiencing any of these common problems, hire a Dixie electrician today. These issues are signs that you need a professional to troubleshoot and find a solution to your electrical problem. We have the equipment and experience to figure out your problem and solve it quickly.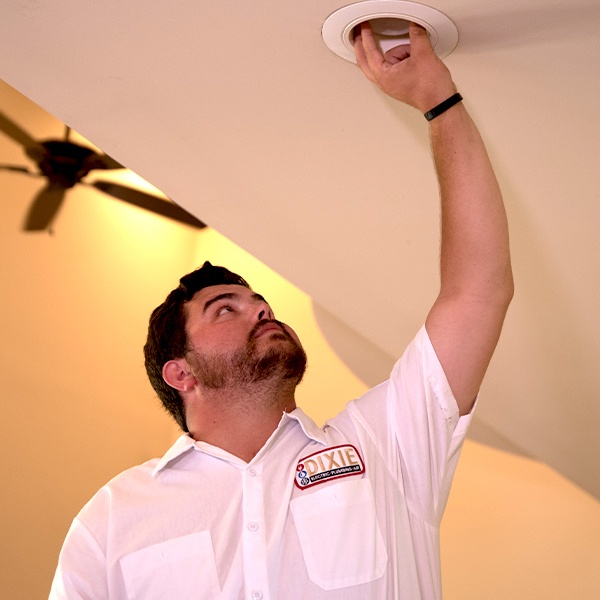 Experiencing Electrical Problems Near Montgomery, Alabama? Call Dixie!
When you are experiencing an electrical issue, you need to call a professional. Don't risk your safety when you can hire a trusted Dixie local electrician at an affordable price. We'll make sure the problem is resolved correctly by an experienced technician.
The professionals at Dixie Electric, Plumbing & Air are also here to help with your home remodeling projects. Whether you are installing a new light fixture or planning a kitchen remodel, our electricians provide the expertise to ensure your project is completed on time and on budget. They also help make sure your project is up to code.
When it comes to safe and reliable electrical service and repair, leave it to the friendly, skilled electricians at Dixie Electric, Plumbing & Air.
YOUR SATISFACTION IS 100% GUARANTEED!
Book your next appointment or call us for emergency assistance.