Residential HVAC Technicians in Montgomery, Alabama
If you live in Montgomery, Alabama, you know it is crucial  to have a working heating and cooling system. The hot summers in the South are not a joke, and you need that essential appliance to function correctly for your comfort and well-being.  
When you choose Dixie Electric, Plumbing & Air, you're in good hands. We have been servicing central Alabama, including Montgomery and Auburn, for over 100 years. Over those years, we have built a tradition of making our customers happy by being honest, showing up on time, and providing upfront, no-obligation estimates.
Each Dixie Electric, Plumbing & Air technician is expertly trained and background-checked so that our customers can rest assured they are inviting only the most trustworthy and professional individuals into their homes. We are standing by 24 hours a day, 365 days a year to take care of your HVAC needs.
Common Heating & Air Problems Include:
Thermostat Malfunctioning
Water & Refrigerant Leaks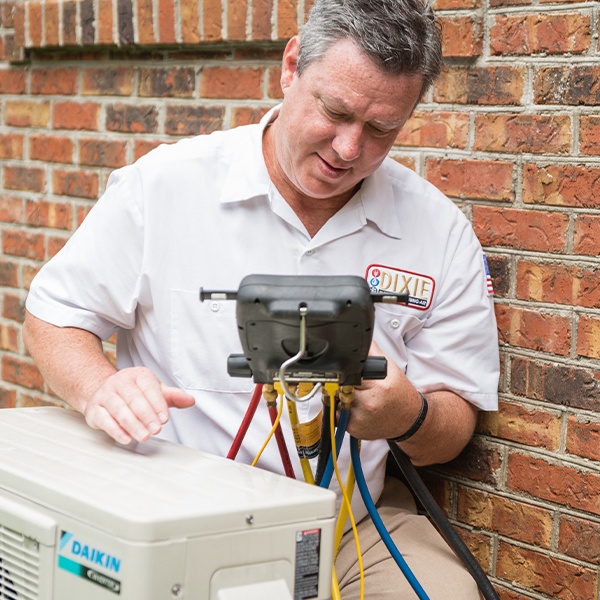 Experiencing HVAC Problems? Call Dixie!
Our trusted technicians at Dixie Electric, Plumbing & Air have you covered for everything from dirty air filters to blown fuses. We can help get to the bottom of any HVAC problem. When you schedule an appointment with Dixie Electric, Plumbing & Air, you get a thorough explanation of your issue and a breakdown of how we plan to address it.
Each of our HVAC technicians is a friendly, local expert. We guarantee that any work we perform will be completed on time and to your utmost satisfaction. No matter how big or small your HVAC issue may be, you can trust the professionals at Dixie in Montgomery, Alabama to take it from here.
YOUR SATISFACTION IS 100% GUARANTEED! 
Book your next appointment or call us for emergency assistance.