Home Plumbers in Montgomery, Alabama
If you've ever experienced a leaky toilet or a clogged sink, you know how much of a headache plumbing issues can be. They may seem like small issues, but creaking pipes, cold showers, and even leaky toilets could indicate problems that may lead to a big mess or damage to your home if left unattended.
At Dixie Electric, Plumbing & Air in Montgomery, Alabama, we know how vital it is to take care of any plumbing issue quickly and correctly. We make our customers happy by showing up on time, respecting your home, and by providing upfront, no-obligation estimates. Our expert plumbers are experienced professionals, qualified to take on any plumbing issue, big or small.
Common Plumbing Problems: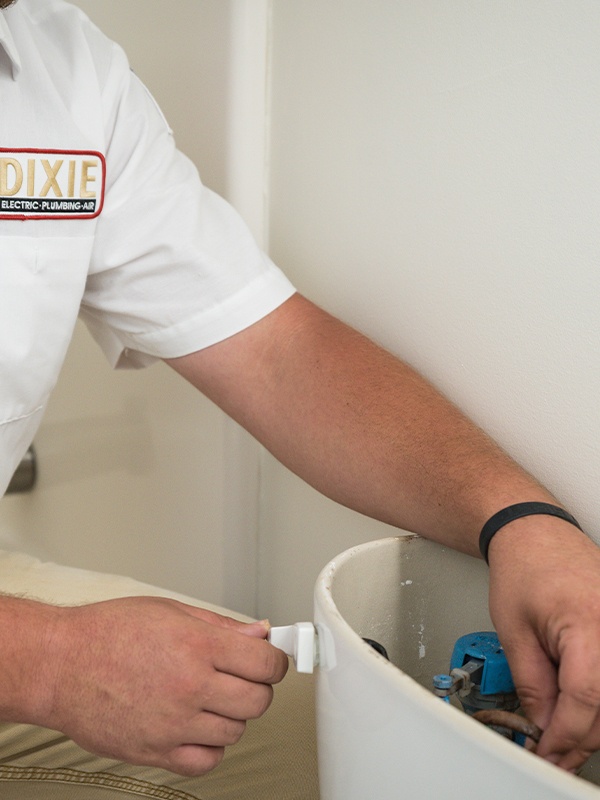 Experiencing Home Plumbing Issues in Montgomery, Alabama? Call Dixie!
Small plumbing issues can lead to BIG problems down the road. That's why we're available 24 hours a day, seven days a week, to take on any plumbing emergencies in your Montgomery, Alabama home that may arise.
Our plumbers are continually undergoing training to ensure they are utilizing the most up-to-date technologies for analyzing and solving plumbing inconveniences. At Dixie in Montgomery, our plumbing professionals use real-time video inspection technology to identify problems and provide solutions to customers.
We want to make sure we get the job done quickly and efficiently, so we always have what we need, and we don't waste time with trips to the parts store. Our plumbing trucks are fully stocked with anything and everything needed to complete your repair. Our plumbing professional will get the job done right, and Dixie backs all work completed with our Service & Repair Money Back Guarantee.
If you want a 5-star plumber who is friendly and respects your time and your home, look no further than Dixie Electric, Plumbing & Air. Call Dixie today!
YOUR SATISFACTION IS 100% GUARANTEED! 
Book your next appointment or call us for emergency assistance.