Residential Electrical Service Provider in Opelika, Alabama
If it's excellent quality electrical service at an affordable price you are seeking, search no further. Dixie Electric, Plumbing & Air is a trusted name with over a century's worth of experience.
As a resident of central Alabama, it's important your electrical system operates at an optimal level. Our professional electricians are prepared for any electrical repairs or services that your home may need.
Common Questions About Dixie Electrical Services
NOT SURE IF YOU NEED ELECTRICAL SERVICE?
If you answer "yes" to any of the questions below, we suggest addressing the issue(s) promptly to prevent any further damages:
Is your panel outdated? Do you have a breaker that trips continuously?
Has it been more than a year since your last safety inspection?
Has an electrical outlet in your home stopped working?
Do you have damaged cords, outlets, or breakers?
Do you need security or landscape lighting to keep your home safe?
Are you planning a remodeling or construction project?
Do you ever get a strange smell around your outlets?
Is your home lacking whole-home surge protection?
Do you have a broken smoke/carbon monoxide alarms?
If you've answered "yes" to any of these questions, give our Dixie Opelika office a call because you need an electrician. These issues are signs that you should have an expert electrician solve your electrical problem. If you suspect the slightest issue with your electrical system, our team has the tools and expertise to fix the problem quickly.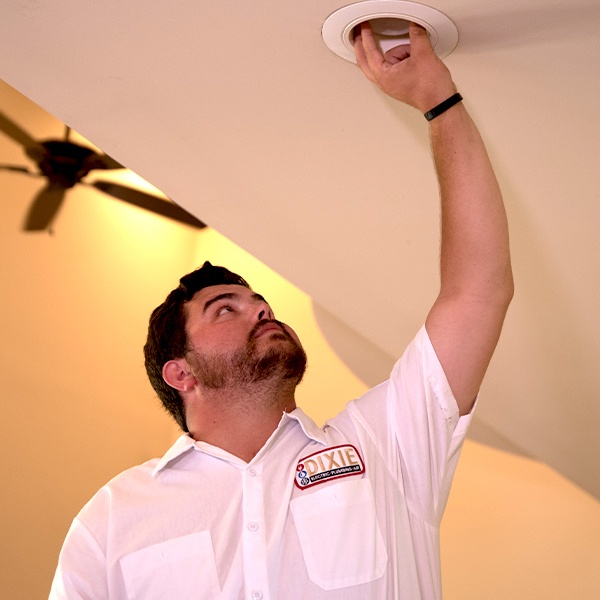 Experiencing Electrical Problems In Opelika, Alabama? Call Dixie!
Plan on installing a new light fixture, or adding the finishing touches to a kitchen remodel? Our experienced electricians ensure your job is completed on time, within budget, and up to code.
Schedule an appointment with Dixie Electric, Plumbing & Air and ensure you're receiving quality service from a local, licensed Opelika electrician. Our team is committed to resolving all electrical issues at an affordable price.
When it comes to reliable electrical service and repair, trust the skilled electricians at Dixie Electric, Plumbing & Air.
SATISFACTION GUARANTEED!
Book your next appointment or call us for emergency assistance.