Residential Plumbers Near Opelika, Alabama
Dixie not only handles your electrical and air service in Opelika, but we're also equipped with on-site professional plumbers. Dixie Electric, Plumbing & Air was the first local electrical company to add plumbing to their list of services, so we are the clear experts in this arena.
No one ever expects to come home to a plumbing emergency. So whether it's a burst pipe or a faulty water heater, we'll be there when you need us.
When issues arise, you can't trust just any plumber. We guarantee customer satisfaction by arriving on time and providing upfront, no-obligation pricing. Our expert plumbing professionals are qualified to diagnose all of your plumbing issues.
Common Plumbing Problems: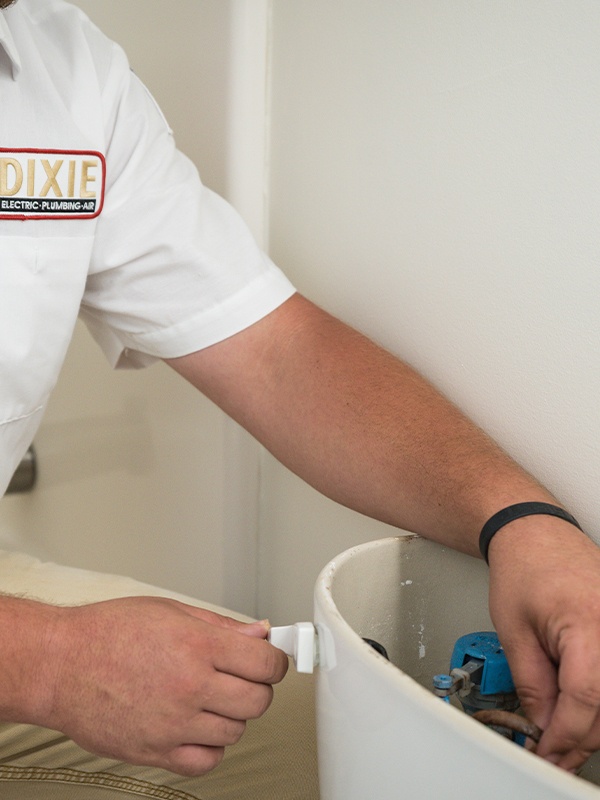 Experiencing Plumbing Issues in Opelika, Alabama? Call Dixie!
Plumbing problems not only affect your home but are an inconvenience to your daily life. This is why our team is available 24/7 because that's when plumbing emergencies tend to happen.
At Dixie Electric, Plumbing & Air in Opelika, we utilize real-time video inspection to diagnose problems and find solutions. Our plumbing technicians receive ongoing training so that they're always up-to-date on new techniques.
Your time is valuable – we don't waste it looking for spare parts! Our expert plumbers arrive in a stocked truck, fully prepared to complete most plumbing repairs or cleanings. As always, Dixie backs all of our jobs with an easy Money Back Guarantee.
Looking for timely and professional service from top-rated plumbers? Give Dixie Electric, Plumbing & Air a call today to schedule an appointment!
SATISFACTION GUARANTEED!
Book your next appointment or call us for emergency assistance.