Residential Plumbers Near Opelika, AL
No one ever expects to come home to a plumbing emergency. Whether it's a burst pipe or a faulty water heater, don't trust just any plumber.
Dixie Electric, Plumbing & Air was the first local electrical company to add plumbing to their list of services, establishing us as the clear experts in this arena! We guarantee customer satisfaction by arriving on time and providing upfront, no-obligation pricing.
Our expert plumbing professionals are there when you need them most, qualified to diagnose and repair all of your plumbing issues. From leak detection and pipe restoration solutions to fixing dripping faucets and overflowing toilets, our residential plumbing repair service in Opelika does it all.
In addition to our residential plumbing services, we also perform commercial plumbing services and industrial plumbing services throughout Alabama. For superior plumbing services for the buildings you care about most, call Dixie and it's done.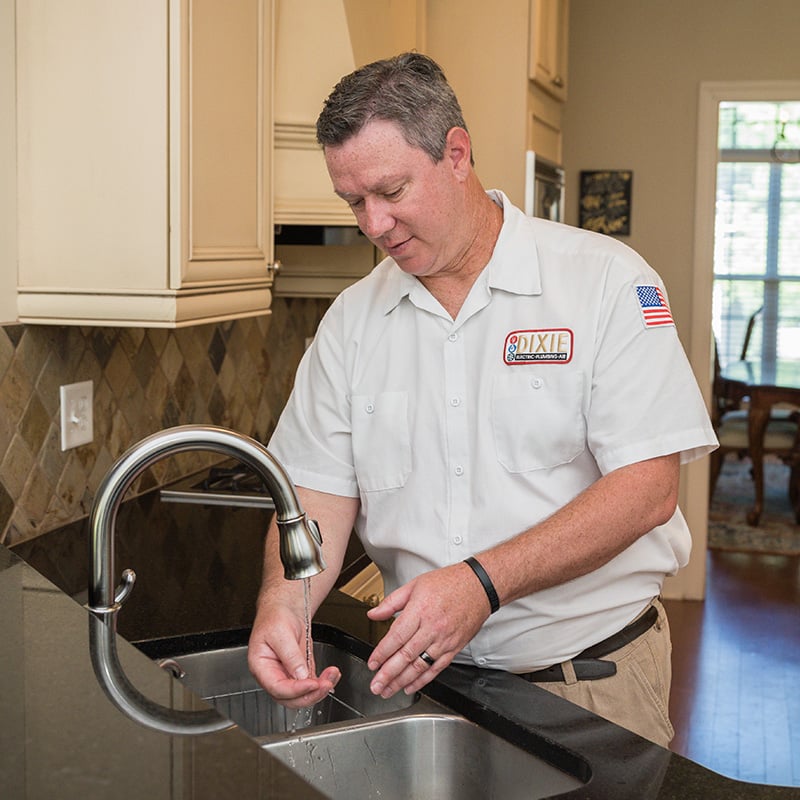 Emergency Plumbing Services
When faced with a plumbing emergency, you need fast service to avoid water damage wreaking havoc in your home. Don't delay; experience the Dixie difference today! Call 334-246-4914 to schedule a service call with on-site professional plumbers.
Professional Plumbing Services in Opelika
Whether you want to remodel your kitchen and bathroom or get a thorough sewer inspection and water line inspection, Dixie's comprehensive plumbing service is the choice for you! As some of the best plumbers in Opelika, we're here to stop plumbing problems before they start.
Our skilled plumbers complete a variety of services each day, including:
If any of the above scenarios apply to you, then call Dixie Electric, Plumbing & Air here in Auburn. You'll want to have a certified professional electrician look at your issues, make suggestions for remediation, and resolve your issues OR give you ideas for remodeling or landscaping projects.
Common Questions for Dixie Emergency Plumbers
We see it all too often: Most homeowners don't think about plumbing maintenance until it's too late and they're coping with extensive water damage.
During a routine plumbing maintenance visit, we test water pressure, check for signs of water damage or corrosion, clean drains, and clear out debris. These procedures extend the life of your plumbing system by keeping it efficient and unclogged. This can also save money on your water bill!
Keeping track of maintenance can be a chore, so we created the Dixie Cares Maintenance Plan to help clients stay current with these appointments. The plan includes an annual plumbing system tune-up, inspection, and drain cleaning and maintenance. Plan members also enjoy priority service and a 15% savings on all electric, plumbing, air conditioning, or heating repairs.
To keep dispatch fee costs low for our valued clients, we generally send out one technician in a fully-stocked vehicle for a plumbing service call. (We can call in back-up if needed!) All of our technicians are background checked and drug tested, committed to treating you and your home with respect.
Dixie Electric, Plumbing & Air offers emergency plumber service and we can send out our technicians ASAP. We aim for same-day resolution, so you can return to your daily life. From our central Alabama location, we can quickly reach Montgomery, Auburn-Opelika, Wetumpka, Pike Road, Prattville, and surrounding areas. We also bring a full selection of spare parts to every service call, so you won't have to sit around waiting for the part you need. Some large plumbing projects might require a permit, which we can help you obtain.
Experiencing Plumbing Issues in Opelika, Alabama? Call Dixie!
When it comes to plumbing problems, we'd advise against "DIY." If plumbing repairs are not performed correctly, they can even cause new water leaks that threaten the foundation of your home. Fortunately, our slab leak detection can help prevent this. Our experienced Opelika plumbers are available to take on any plumbing emergencies that arise in your home or business.
In addition to our decades of industry experience, we invest in ongoing training for our licensed plumbers to learn about the most up-to-date technologies for analyzing and solving plumbing inconveniences. To get the job done quickly and efficiently, our plumbing professionals use real-time video inspection technology to identify problems, pinpoint leaky pipes, and provide solutions to customers.
Plus, we don't waste your time with trips to the parts store! Our plumbing trucks are fully stocked with anything and everything needed to complete your repair. We're so sure our plumbing professional will get the job done right, we back all plumbing work with our Service & Repair Money Back Guarantee.
If you want a 5-star plumber who is friendly and respects your time and your home, look no further than Dixie Electric, Plumbing & Air for all your plumbing needs. Call Dixie today!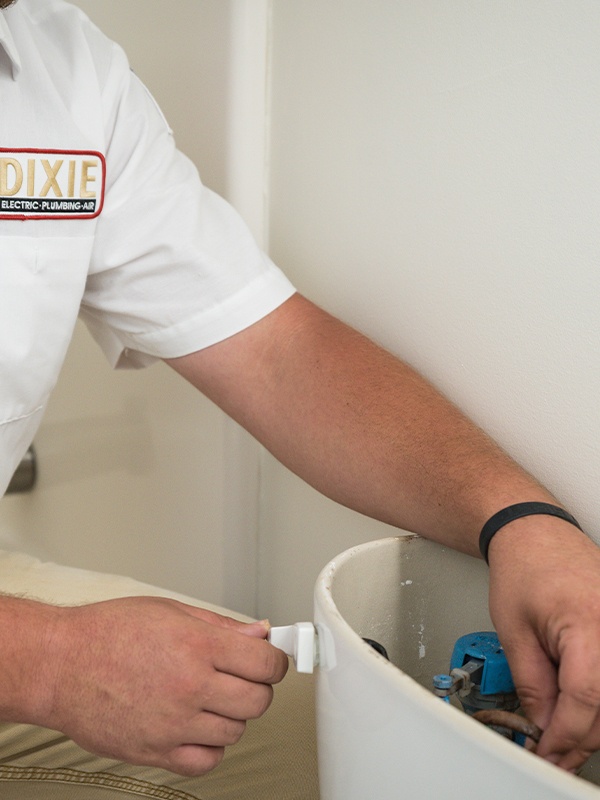 Dixie's Opelika Plumbers Are Here for You
Dixie Electric, Plumbing & Air offers emergency plumbing services in Opelika and beyond. As a family-owned business, we uphold our commitment to outstanding customer service with a simple strategy: quality work, performed in a timely manner, at a reasonable price. All of our qualified personnel and plumbing contractors undergo thorough training and stay informed on the best available solutions in today's plumbing industry. We also conduct background checks and routine drug testing for all technicians.
We value your home and your comfort as much as you do. With a certified master plumber from Dixie, you can rest assured every plumbing repair is performed promptly and properly.
In addition to residential plumbing services, Dixie also performs new plumbing construction, industrial plumbing installation, electrical, air conditioning, and other industrial and commercial services in Opelika and surrounding communities.
Ready to discuss your next plumbing project? In need of emergency service? To speak to a skilled Opelika plumber near you, call Dixie at 334-246-4914.
REMEMBER, YOUR SATISFACTION IS 100% GUARANTEED!
Book your next appointment or call us for emergency assistance.