Residential Electrical Service Provider in Phenix City, AL
If it's a top-notch electrician at an affordable price you are looking for, search no further. Dixie Electric, Plumbing & Air has been taking care of the electrical needs of homeowners for over 100 years.
As a homeowner in central Alabama, it's critical to have your electrical systems operating at an optimal level. Our technicians at Dixie are qualified and prepared to help you with any electrical repairs or services that your home may need.
Common Questions About Dixie Electrician Services
WONDERING HOW TO KNOW IF YOU NEED AN ELECTRICIAN?
If you answer "yes" to any of the following questions, our expert electricians recommend scheduling an appointment to keep your home from incurring further damage:
If you've answered "yes" to any of these questions, give our Dixie Opelika office a call because you need an electrician. These issues are signs that you should have an expert electrician solve your electrical problem. If you suspect the slightest issue with your electrical system, our team has the tools and expertise to fix the problem quickly.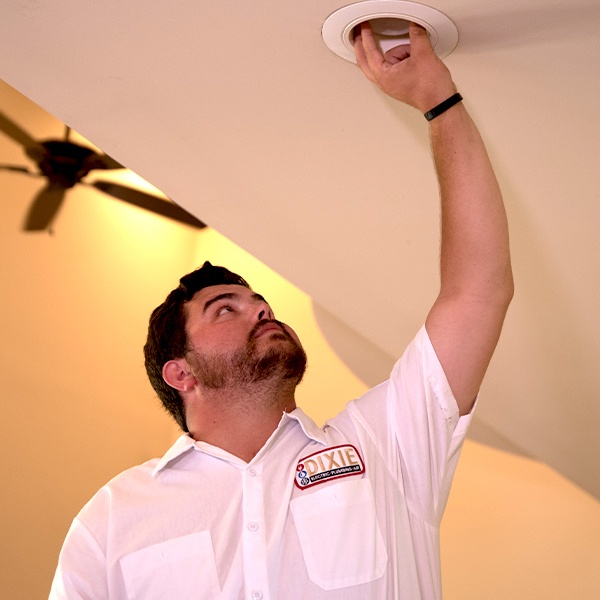 Experiencing Electrical Problems In Phenix City, Alabama? Call Dixie
Not all electrical services occur because of a problem or repair. If you need help with the installation of a new light fixture or are pursuing a kitchen remodel or building project, Dixie Electric, Plumbing & Air can help with that, too. Our experienced electricians provide the expertise to ensure that your electrical project is completed safely and correctly.
Scheduling an appointment with Dixie Electric, Plumbing & Air is simple, and puts you one step closer to having a safe, properly working electrical system. Dixie provides quality electrical service from a technician that's your neighbor, based in Phenix City.
For safe, reliable, and trusted electrical service, maintenance, and repair, call the expert electricians at Dixie Electric, Plumbing & Air.
Book your next appointment or call us for emergency assistance.