Local Residential Electricians in Pike Road, AL
When searching for an electrical service provider in Pike Road, you want to find a team of local electricians that are qualified and well respected in your community. At Dixie Electric, Plumbing & Air, we have a strong reputation for taking care of homeowners' electrical needs in central Alabama for over 100 years.
Electrical system operation and safety are vitally important for all homes. Our electrical service technicians at Dixie Electric, Plumbing & Air have positive reviews, a strong work ethic, and friendly customer service. Our electricians at Dixie Electric, Plumbing & Air in Pike Road can aid you with any electrical repairs or services needed in your home or office
Common Questions About Dixie's Electrician Services
DO YOU NEED A LOCAL PIKE ROAD ELECTRICIAN?
If the answer happens to be "yes" to any of the questions below, then you need to give us a call as soon as possible:
If you've answered "yes" to these questions, it's time to call an expert electrician from Dixie Electric, Plumbing & Air in Pike Road. The above questions reflect electrical issues that require professional attention. If you suspect an issue with your electrical system, we have the equipment and expertise to determine and resolve the problem quickly.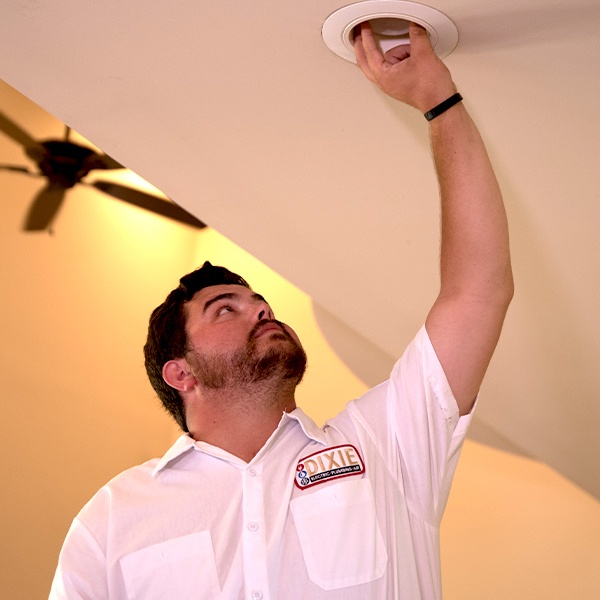 Experiencing Residential Electrical Problems in Pike Road? Call Dixie!
You can count on our professional electricians to provide the expertise to ensure your electrical project is completed on time, on budget, and up to current code. Dixie Electric, Plumbing & Air has a team of licensed, background-checked, expert electricians based right here in Pike Road. Our trusted electricians value your time, your home, and your family's safety.
If you're seeking safe and reliable electrical service, repair, and maintenance, schedule an appointment with the electricians at Dixie Electric, Plumbing & Air.
Book your next appointment or call us for emergency assistance.