Residential HVAC Services in Pike Road, AL
When you live in Pike Road, Alabama, your heating and air conditioning unit is vital to the comfort of your home. Regardless of the season, your home's comfort matters for you and your family. When your HVAC unit needs servicing, you want a local HVAC company that you can trust.
A qualified professional will promptly visit your home when you reach out to Dixie Electric, Plumbing & Air for your heating and cooling service needs. With our 24/7 Emergency Line, your home's services will be addressed quickly and professionally. Our professionally trained, background-checked, and drug-tested HVAC service technicians are friendly, prompt, and qualified to address your home's HVAC service needs.
Common HVAC Problems Include: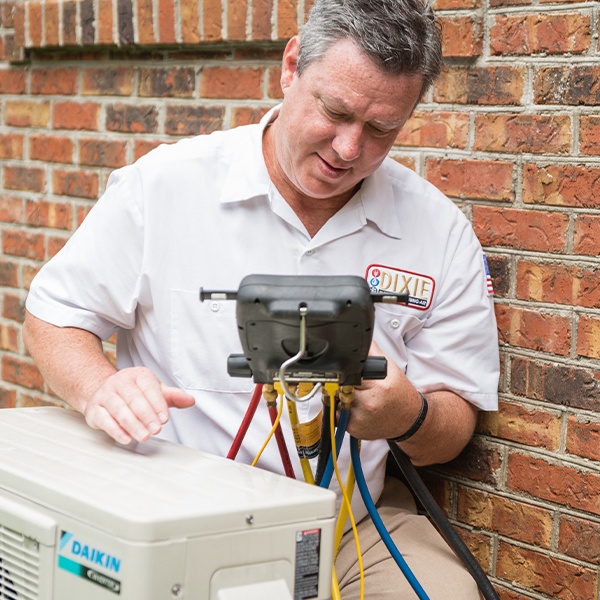 Experiencing HVAC Issues in Pike Road, Alabama? Call Dixie!
Whether it's routine HVAC maintenance, installations, or complex repairs, our certified technicians in Pike Road are trustworthy and reliable. You can easily schedule an appointment for a heating and cooling technician to visit your home, and trust that your home's needs are in good hands.
At Dixie Electric, Plumbing & Air, you can rest easy knowing that we will take care of your home. We're well known and trusted in our community for our reliability, respect, and consistent service. We have been providing exemplary service to our community since 1908, servicing a wide area of Central Alabama, including Montgomery, Auburn, and surrounding areas like Pike Road.
Our HVAC service technicians are the local experts. When it comes to heating and cooling, allow our team at Dixie Electric, Plumbing & Air to offer you Pike Road's best HVAC service
Book your next appointment or call us for emergency assistance.