Prattville, AL Residential Plumbers
Plumbing emergencies can be a nightmare. Whether it's a water leak in the garage or an overflowing toilet in the kid's room, plumbing problems need to be taken care of quickly – and by professionals with years of experience handling them. Dixie Electric, Plumbing & Air has some of the highest qualified, expert plumbers in all of central Alabama.
At Dixie, we are well known in Prattville for exceeding our customers' expectations. We do this by showing up for your appointment at the exact right time, expediently fixing your problems, and by letting you know how much something is going to cost before ever replacing a single washer or bearing!
Common Home Plumbing Problems: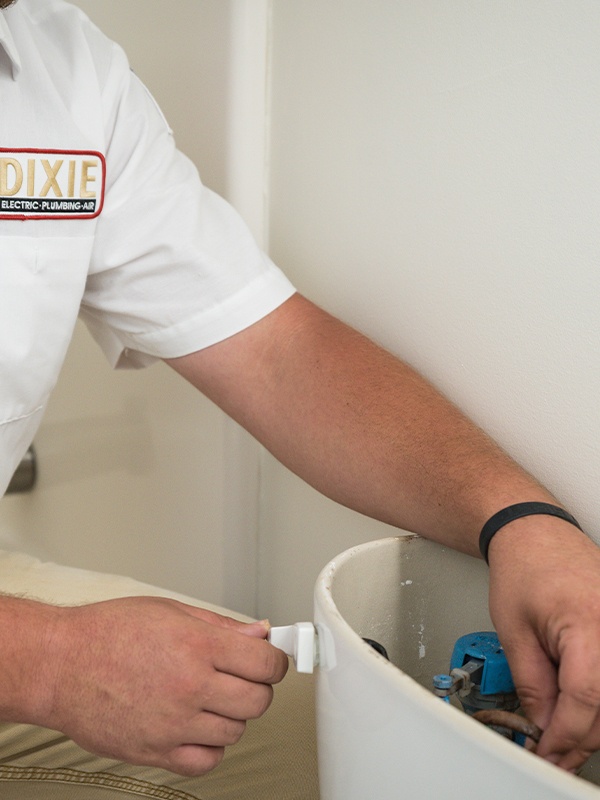 Experiencing Home Plumbing Problems in Prattville, Alabama? Call Dixie!
Sometimes plumbing issues happen at 2:00 am when everyone is trying to get a good night's rest. That's why we offer our customers round the clock service, so you don't have to wait until "regular hours" to get your problem addressed.
At Dixie Electric, Plumbing & Air in Prattville, Alabama we invest heavily in technology that helps us get a good look at your plumbing and pipes, such as real-time video inspection. Our plumbers receive ongoing training on this and other emerging new types of technologies that help us diagnose and fix plumbing issues in a snap.
We don't waste your time heading out to the warehouse to retrieve a part we need to fix your problem. Our plumbing experts show up with a warehouse on wheels, ready and able to take care of most plumbing repairs or drain cleaning needs right then and there. And as our customers have come to expect out of us, we stand behind all of our work with our Service & Repair Money Back Guarantee, giving you peace of mind that your job will be done with your highest possible satisfaction.
If you need an experienced plumber for your next plumbing emergency, please give us a call right away!
GIVE DIXIE ELECTRIC, PLUMBING & AIR A CALL TODAY FOR EXPERT LOCAL PLUMBING SERVICES TODAY!
Book your next appointment or call us for emergency assistance.