Residential Electrical Service Provider in Wetumpka, AL
For over 100 years, Dixie Electric, Plumbing & Air has been providing high quality, cost-effective electrical service to homeowners. If you live in Wetumpka, and you're looking for experienced electricians, search no further.
Homeowners like to do a lot of their home repairs themselves, but when it comes to electrical issues, it can be dangerous to take on those projects without a professional. Don't risk it – let our certified help you with any repairs or services you may need.
You need to have your electrical system operating at an optimal level to ensure your safety and comfort. Our qualified electricians at Dixie are highly skilled and can tackle any electrical repairs or services you may need in your home.
Common Questions About Dixie Electrician Services
IF YOU HAVE ANY OF THE FOLLOWING ELECTRICAL ISSUES, OR IF YOU'RE PLANNING AN UPCOMING ELECTRICAL PROJECT.
We recommend scheduling service with a certified Dixie electrician as soon as possible.
If you're experiencing any of these electrical problems, hire a Dixie electrician here in Wetumpka today. All of these issues can cause severe damage and can be detrimental to your safety. Even if you only suspect something might be wrong with your electrical system, our certified professionals are here to help you troubleshoot and solve these problems quickly before they become more serious.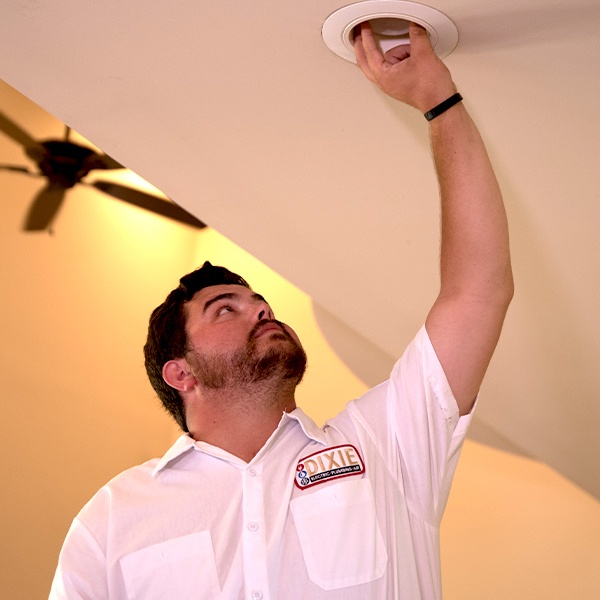 Experiencing Electrical Issues in Your Wetumpka, AL Home? Call Dixie!
When you schedule an appointment with Dixie Electric, Plumbing & Air, you are getting quality service from a licensed, expert electrician right here in Wetumpka. Our professionals know your time is important, so we are committed to resolving all of your electrical issues in a timely manner at a fair price.
From repairing damaged outlets to installing new light fixtures to major building projects, our experienced electricians have the expertise to ensure your project or repair is completed safely and on time.
When it comes to safe and reliable electrical service and repair, leave it to the friendly, skilled electricians at Dixie Electric, Plumbing & Air.
YOUR SATISFACTION IS 100% GUARANTEED!
Book your next appointment or call us for emergency assistance.