Residential Plumbers in Wetumpka, AL
Dixie Electric, Plumbing & Air was the first electrical company to provide plumbing and drain cleaning in addition to other services in the Wetumpka area. Our team of certified plumbers have years of knowledge and experience, and they provide their expertise with the utmost professionalism and courtesy to our customers.
We've all had to deal with persistently clogged drains or burst pipes at one time or another. These problems are always an inconvenience and can cause a lot of undue stress at the worst possible times.
When you have water leaking in your home or your pipes are making worrisome noises, you want to take care of the issue as quickly as possible, and you want it done right. At Dixie, we stand by our certified plumbing professionals and guarantee you will be satisfied with our work. We value your trust and your time, which is why we always show up on schedule, and we're always upfront about our no-obligation pricing.
Common Plumbing Problems: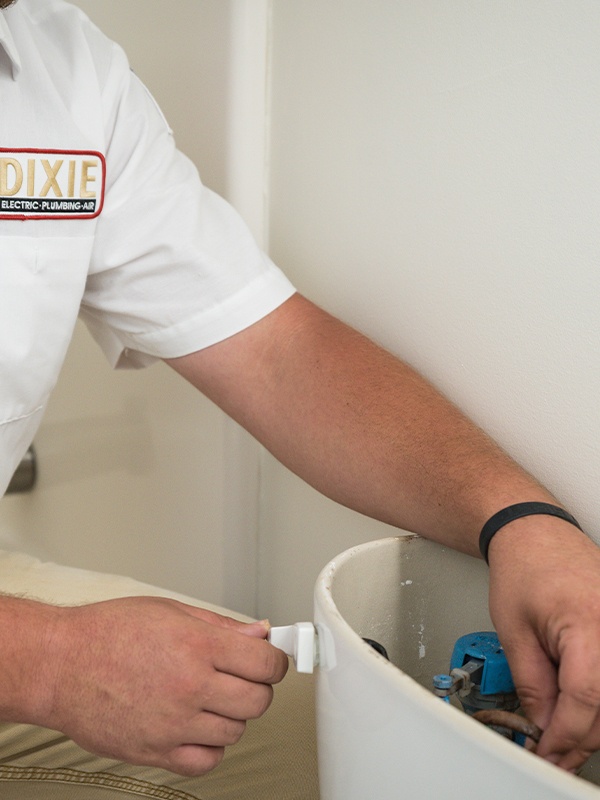 Experiencing Residential Plumbing Problems in Wetumpka, Alabama? Call Dixie!
Plumbing problems can cause a lot of hassle and headaches, which is why we're available 24 hours a day, seven days a week to provide service for any plumbing emergency.
At Dixie Electric, Plumbing & Air in Wetumpka, our professional plumbers receive ongoing training to ensure they are able to provide the most up to date methods for servicing your home's plumbing system. We use real-time video inspection technology to identify problems more precisely, so that we can provide the best solutions for our customers.
We can guarantee that your plumbing issue will be solved promptly because our plumbers at Dixie Electric, Plumbing & Air always have what they need in their truck, ready to complete just about any plumbing repair or unclog any drain on the spot. You will never have to wait for our plumbing professionals to order a part to complete the job. Dixie stands by all work completed in your home with our Service & Repair Money Back Guarantee.
If you are looking for friendly and professional plumbing service from top-rated plumbers, give Dixie Electric, Plumbing & Air a call today!
YOUR SATISFACTION IS 100% GUARANTEED!
Book your next appointment or call us for emergency assistance.